We know the obvious reasons why you might choose to block someone on the Social Medias… so we thought let's find some out there bizarre unorthodox reasons that people might have for blocking people… yes, that guy…
[The Story So Far: Every Wednesday at 12 noon South African time [6am EDT] an inspired and growing number of brilliant, creative and absolutely fun people from all around the world take part in what is called a Hashtag game. @AFrikkinHashtag [say it out loud] is South Africa's #1 Hashtag game and is always a lot of fun. The F.L.O.P. [or Fish List Of Prizeworthyness] is the collection of some of the best tweets from each week's game and is what all seriously comedic Hashtaggers aspire to…]
This was the game that started all the trouble… as it was when Nemesis-in-Training Lisa came on board the AFH train…
So when @KeshaTedder is away, Lisa is right on hand to start passing out raiSINs left right and center. Sigh.
But to be honest we were super stoked to have her on board cos she is an excellent hashtagger and just such a fun person and addition to the AFH UnNamed Ones crew and also great to have a new country – Singapore – represented in a group that already boasts South Africa, Holland, England, Scotland, USA, Canada, Americaland and Australia [okay we don't boast Australia, but we let them stay, as long as their cricket team keeps losing to ours…]
But ja, Lisa is a lot of fun and vibey energy and she totally brought it to this game which we started by sending out some invitationals: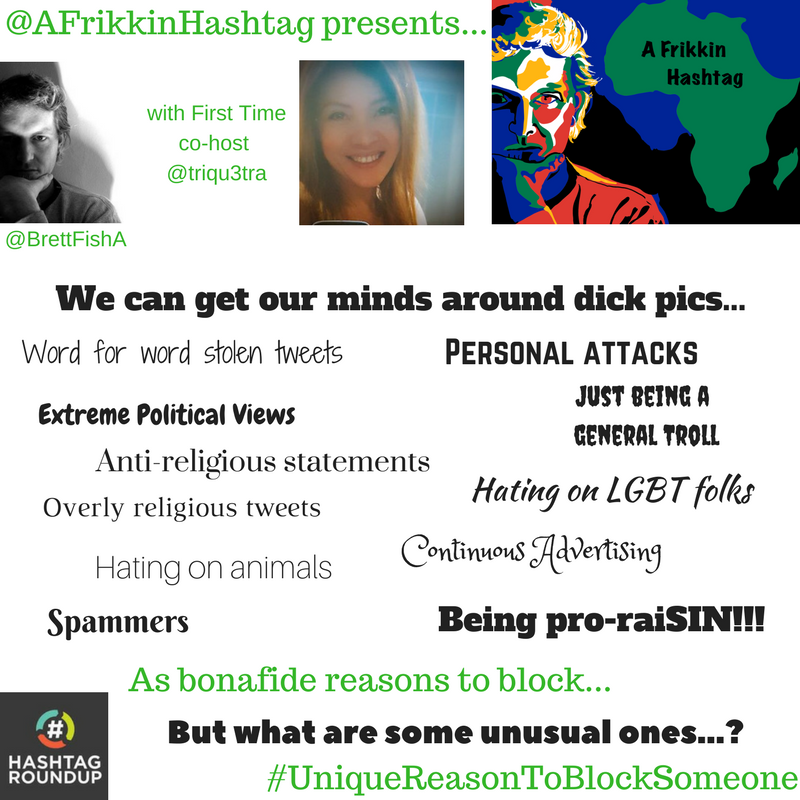 Their tattoos made me jealous. #UniqueReasonToBlockSomeone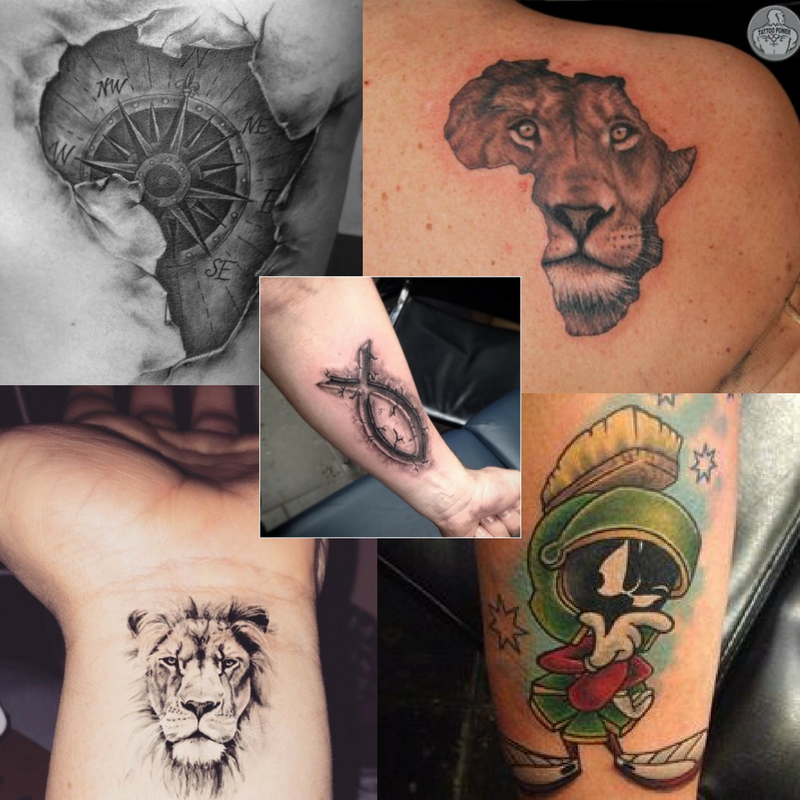 As mentioned Lisa was right in there
And it was another crazy fun game that brought out the creativity and as always too many tweets to grab them all, but some of the ones that we saw and really liked and thought were F.L.O.P.worthy were these making up the TOP TWEETS list that we like to call:
the FISH LIST OF PRIZEWORTHYNESS
Aricka starts us off and her suggestion is not to be sneezed at:
While Toya didn't beat around the hashtagging bush at all:
No, mom, there is not actually a hashtagging bush. LOL [lots of love]
Jayme was feeling very particular:
While i am defanately on board with this reason from the Weasel:
While this was actually the first time i had seen this and it is so great:
Rowas was definitely on a different plane:
Dee was feeling a little sensitive:
While John is [typically] just completely out of control:
Rob was just being sensible:
Sean was on it #HowDareThey:
While Katt has her limits:
Richard, just yes…
Dave was just taking it to the next level #Unacceptable
M!$$ B was just pplain speaking the truth hear:
While ℓєσ9мσиєу had just about had enough:
While Ash was getting a headache trying to keep up:
DFK has a tniop doog here:
Brick was fed up with the insanity:
While Luke's answer felt a little Force'd:
Dave was just working towards a goal:
Rebel wasn't convinced:
This is true of so many people actually:
Dave's seems like a terrible suggestion…until…
While Andy was just speaking all the sense:
Warren was just being obedient:
Don't think so felt compelled #NothingPersonal:
Barry got caught up in that whole inheritance thing:
While Craig's reasons were purely cultural:
While Connie was just doing the math:
Phishgod seems to feel pretty strongly:
While Dave was trying to picture a world:
Sho, it is always a lot of fun to go through an old game again and reread the tweets that were selected but there are some really fun and great ones today – well done everyone. There were however, four that rose to the top of the Twitterer pile and those are going to make up this week's
F.L.O.P. FOUR
[4] Sishir's is here on absolute merit:
[3] Tee had done the research:
[2] This is so yes on so many levels #ThatAllcontainTracesOfTofu
[1] While top misdirectional points slam dunk and this week's winner goes to this Heart of Gold tweet
Well done everyone and thanks for playing. If your tweets are family friendly we will likely like and RT them and if they are overly FUN, CLEVER, MISDIRECTIONAL, RANDOM [but related] or PUNNY they have the best of chances to make it into a F.L.O.P. Top Tweets list. So keep them coming and we will continue doing our best to create fun and enjoyable-to-play frikkin hashtagging games.
Special thanks to Lisa [who is great despite all that nemesis stuff] and the cast and crew of The UnNamed Ones…
If you'd like to try your hand at co-hosting a fun game, gimme a shout. Til then please keep the WIT in the Twitterer
love brett fish and No_bob [the world's most famous stuffed dolphin]