With all the seriousness happening in the world at the moment, we thought we needed to go light-hearted for a moment and so we invoked the gods of pun and misdirection and invited you to ask us if we'd heard the one about…
The Story So Far: Every Wednesday at 12 noon South African time [6 am EDT] an inspired and growing number of brilliant, creative and absolutely fun people from all around the world take part in what is called a Hashtag game. @AFrikkinHashtag [say it out loud] is South Africa's #1 Hashtag game and is always a lot of fun. The F.L.O.P. [or Fish List Of Prizeworthyness] is the collection of some of the best tweets from each week's game and is what all seriously comedic Hashtaggers aspire to…]
AFH extended our international reach as we brought the thoroughly engaging Jimish aka @jimishbathia on board and he immediately became a key player in our team.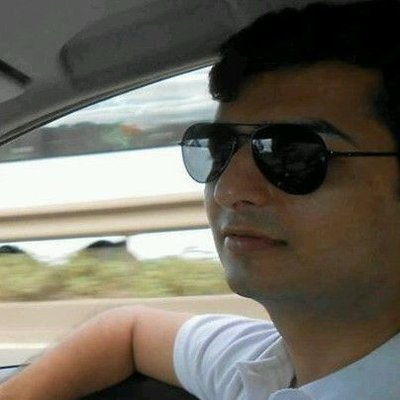 Then we sent out an invitation to get you all excited and stuff: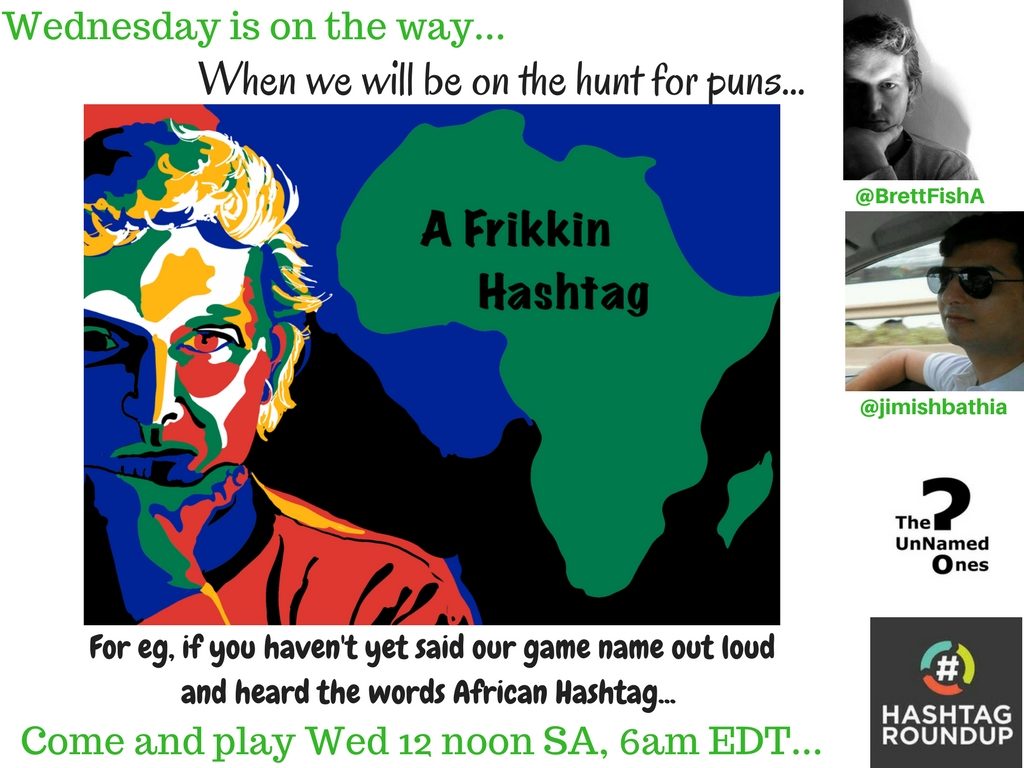 And sent out a few examples, you know, just to get things moving. Like this one which i am particularly proud of and which should have gotten a whole lot more love:
#DidYouHearTheJokeAboutThe english lesson? It's hard to pronouns properly.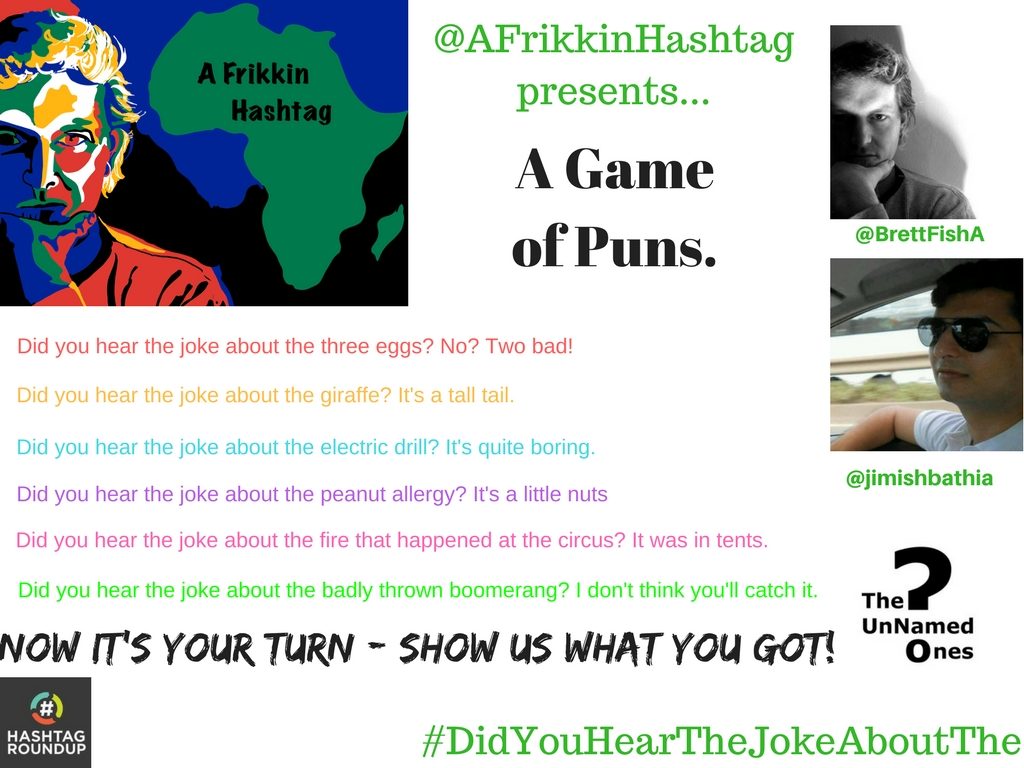 Jimish is a tagger i have enjoyed for a long time and he quickly showed us his stuff:
The game was quickly into the trends:
And some of our favourite bots showed up:
We even got a bot song:
And it was fun watching these companies get involved:
Loved that the Colorectal Cancer Alliance took the opportunity to show their stuff:
Plus we made it on to our own Hashtag Moments list:
Which brings us to the rest of you – this really seemed like a game that just let a lot of you forget about the worries for a while and just have a great time, which is what we are all about…
So keeping it family and with an eye on FUNNY and CLEVER and MISDIRECTIONAL and RANDOM [but related] and PUNNY, here is this week's
FISH LIST OF PRIZEWORTHYNESS [aka The F.L.O.P.]
Emperor Tal got us started with this subtle affront to your intelligence:
Matt scored big points both for his fish theme and play on the word 'crap' [one of my favourite words cos it says eactly what it is, right?]
Jess returned with a repeat version of an old classic. Trigger warning to raiSIN haters like myself:
Whereas Luke's tweet was dope:
DW was in the house with this corny undead attempt:
While Bill Womp Womped himself before showing himself out after this dad dad joke:
MArk's felt a little reactive #YesIWillBeHereAllweek:
While Sidney's one might take you a second…
Bazza joined in with an old favourite:
While John was struggling to tread water with this one:
Craig continued his relationship with this game:
While Stephen was just playing around:
Jenny administered her own pun-ishment:
While Monkeyface was all about her own amusement:
Cheyenne brought out a joke i once busted live using an official news jingle on a community radio show i once hosted
#TroubleForDays
While Home finally brought us some good news:
There was no monk-eying about with G:
Lonely had to really work hard for this one:
While Dobby shared what as running through his mind:
Mini T brought the confectionary:
While Don't Think So was not all he was quacked up to be:
Mini T was back and in full form:
While Jeffrey showed us hs pony tale:
JD was not jumping to conclusions:
While Cheryl just took hers to a whole 'nother level:
Dogma nailed both the joke and the response:
While Jenny was back and keeping the cheese real:
Everybody's favourite Bunni dived in for a sad old tale of woe:
Nicol kept us going:
Sun Nite Movie man did a tweet worthy of Stephan Pastis and Pearls Before Swine [my favourite comic strip]
And then went all mafia on us:
While Robby should be condimented, sorry complimented on his tweet:
All in all some amazingly fun and super groan-inducing tweets…
However, that is not all as five of you brought out the actual LOLs and eye-rolls taking it to a whole new level and you make up this week's:
F.L.O.P. SIX
[5] Starting with Barbara who was all over this one:
[4] Dave managed to sneak this beautifully into our family game as it is delightful over crass:
[3] Yes, this is amazing by Special Patrol Group and yes i had to google it to get the joke:
[2] This one by Kev is just so creatively incredible:
[1] But this one by Staples was top top notch yet so simple in its execution:
This last one just makes me so happy. And that is that. Huge shout out to Jimish and the growing crew of UnNamed Ones for hosting a really fun game – we have another one later today [every Wed, now 1pm South African and 6am EST] and as always on the @HashtagRoundUp app which you can get for free so you can keep track of all the games.
i will leave you with a PUNderful Pearls Before Swine cartoon or two and the imploration to keep the WIT in the Twitterer and see you on the Hashtag circuit holding fast to 140 characters or less because #280Characters = #STOPPIT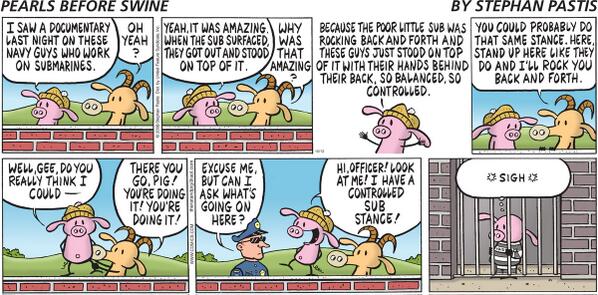 *with apologies for the awful typo in the cover pic #ItWasntMe