You may be good at keeping a straight face, but we asked you what kind of statement you would not be able to get away with as we played a game of #TheLieDetectorWentOffWhenI
[The Story So Far: Every Wednesday at 12 noon South African time [6am EDT] an inspired and growing number of brilliant, creative and absolutely fun people from all around the world take part in what is called a Hashtag game. @AFrikkinHashtag [say it out loud] is South Africa's #1 Hashtag game and is always a lot of fun. The F.L.O.P. [or Fish List Of Prizeworthyness] is the collection of some of the best tweets from each week's game and is what all seriously comedic Hashtaggers aspire to…]
So we got you intrigued: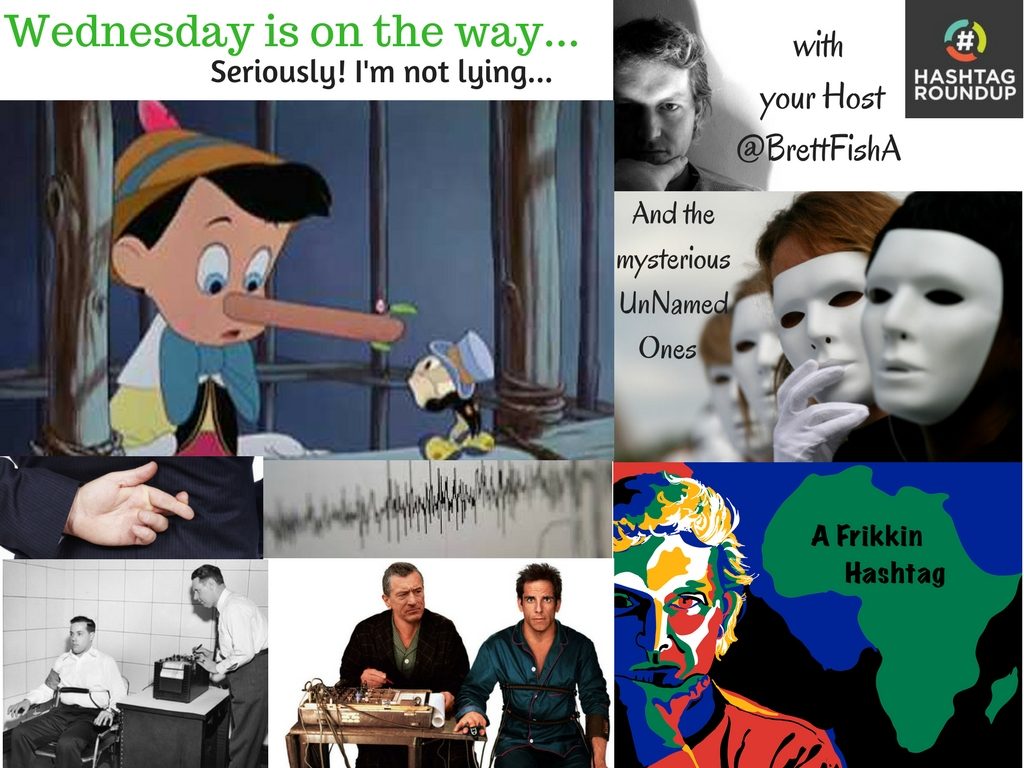 And then we sent out the invite and some examples: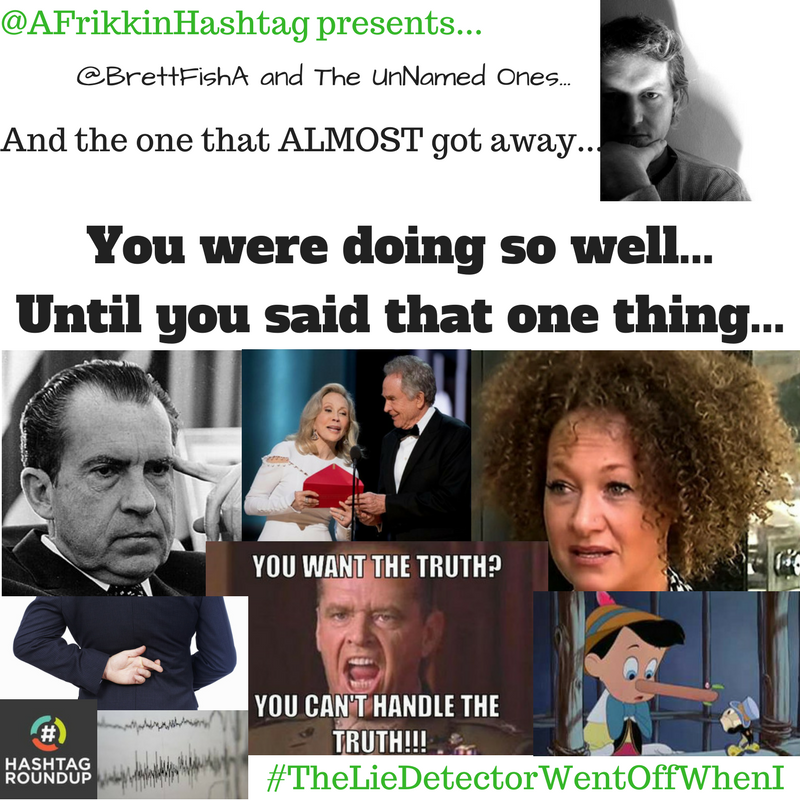 #TheLieDetectorWentOffWhenI accidentally said something about liking raiSINs. #NotATrueStoryWouldNeverHappenEvenInJest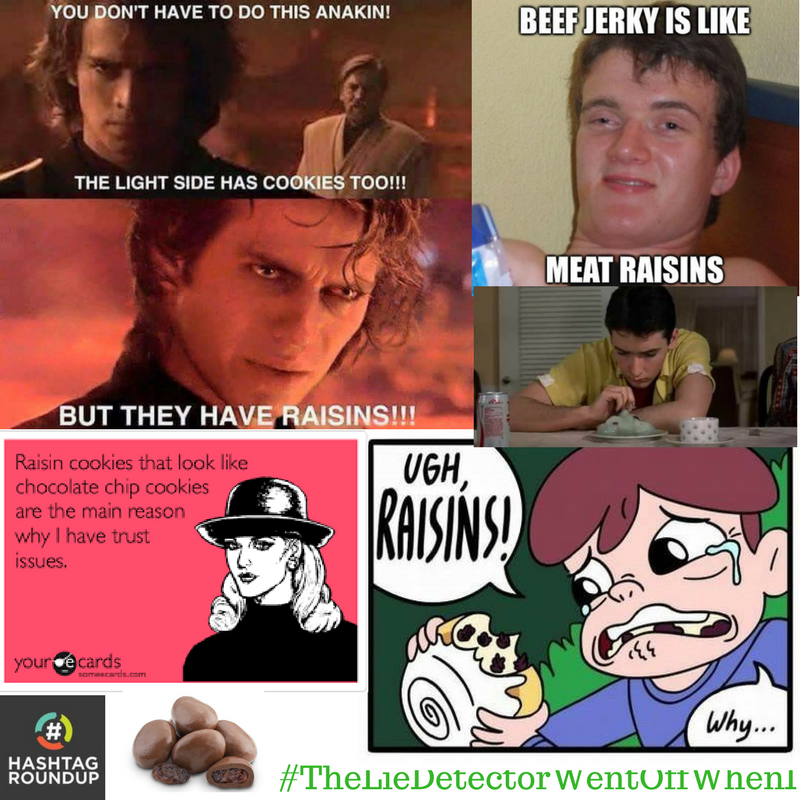 #TheLieDetectorWentOffWhenI said that eating pineapple on pizza should be a thing.
#TheLieDetectorWentOffWhenI told her that it was perfectly socially acceptable to use the word 'Bae' ever. Ever.
#TheLieDetectorWentOffWhenI asked @KeshaTedder who her favourite @StarWars character was and she responded by laughing "Not Jar Jar Binks"
This was the game where we thought we were saying goodbye to our good friend Rob @GenericZA for a long long time [although it did in fact turn out to be much shorter than he had anticipated…or so he says] and so a number of our tweets were shoutouts to him:
But in the meantime our game did its regular trendage and some of our favourite bots stopped by:
And we even had the good folks at 104.2 Nile FM play along with us:
So all in all a whole lot of fun, but of course this is always also just about you and so let's see who made it on to this week's TOP TWEETS list which we affectionately call the F.L.O.P.
FISH LIST OF PRIZEWORTHYNESS
Jimish got us started with a smooth Misdirectional:
While Katt's was in response to that question you're not sposed to ask:
Barry's was a little bit more of a stretch:
While Richard has us confused #OrDidHe:
Andrew reminded us of some good old determination:
While Rob kept us awake with this gem:
Tribe's was a bit more general:
While Geff could have written this one for a whole number of us i'm sure:
While Jack's attempts at misdirection hit him squarely in the face:
Liana's machine knew her inner desires:
While Jack was back on track with this little attempt at a rap attack:
While Cattsy played to the pure science of the moment:
While Knicks felt like we needed a p.s. to keep up:
Just a Thought was caught up in the plagiarise of it all:
While Richard was just caring for the environment:
While Ben's spoke to that age old lie we like to play:
Although Knicks caught us on maybe an even bigger one:
While Tom panicked himself into it:
Sarah left a little evidence behind that spoke against her as well:
While Jayme knew what she was dealing with:
Dave clearly had a secret worth protecting:
While Cooking gal was all sorts of NO!
Jayme was messing around with the dark lord:
Claire may have her eye on you:
While Abed saw it in a whole different way:
Ha Ha i secretly am completely agreeing so much with this one from Cooking Gal 9 times out of 10:
While Artika seemed trapped in the binge…
Gia's was a bit of a mouthful:
While Taylor has us a little more nervous:
While MV was on to something:
While Stephen caused a bit of a surprise:
And Alex it seems has some particular issues to try and raise:
So many great tweets in this game and these were just some of them. But a larger number than normal got our special attention and so this week we have a:
F.L.O.P. SEVEN
[7] Starting with Daniel and this great story that i hope is absolutely true:
[6] While Noel made it in with a Jeff Goldblum name drop:
[5] This one from Michael brought some actual LILS cos NO! STOPPIT! [Laugh Inside Loud]:
[4] While this one made the list for sheer determination and sending love to V's dad:
[3] Big juicy misdirection points for John for this classic:
[2] Brilliance by Noel as who ever actually types LOL when they are LOL'ing?
[1] While AVP played this one well which wins him/her/it this week's F.L.O.P. tweet: