We all know about the metal file hidden in the cake delivered to the prison cell, but we wondered what your plan would involve…
[The Story So Far: Every Wednesday at 12 noon South African time [6am EDT] an inspired and growing number of brilliant, creative and absolutely fun people from all around the world take part in what is called a Hashtag game. @AFrikkinHashtag [say it out loud] is South Africa's #1 Hashtag game and is always a lot of fun. The F.L.O.P. [or Fish List Of Prizeworthyness] is the collection of some of the best tweets from each week's game and is what all seriously comedic Hashtaggers aspire to…]
This week it was the turn of Mark Bonnet to join us in the co-host's seat [Disclaimer for future possible co-hosts: not an actual seat]
We sent an invitation:
Join @Mytquinn69 & @BrettFishA as we come up with elaborate schemes of escape using unlikely methods…
#MyEscapePlanIncludes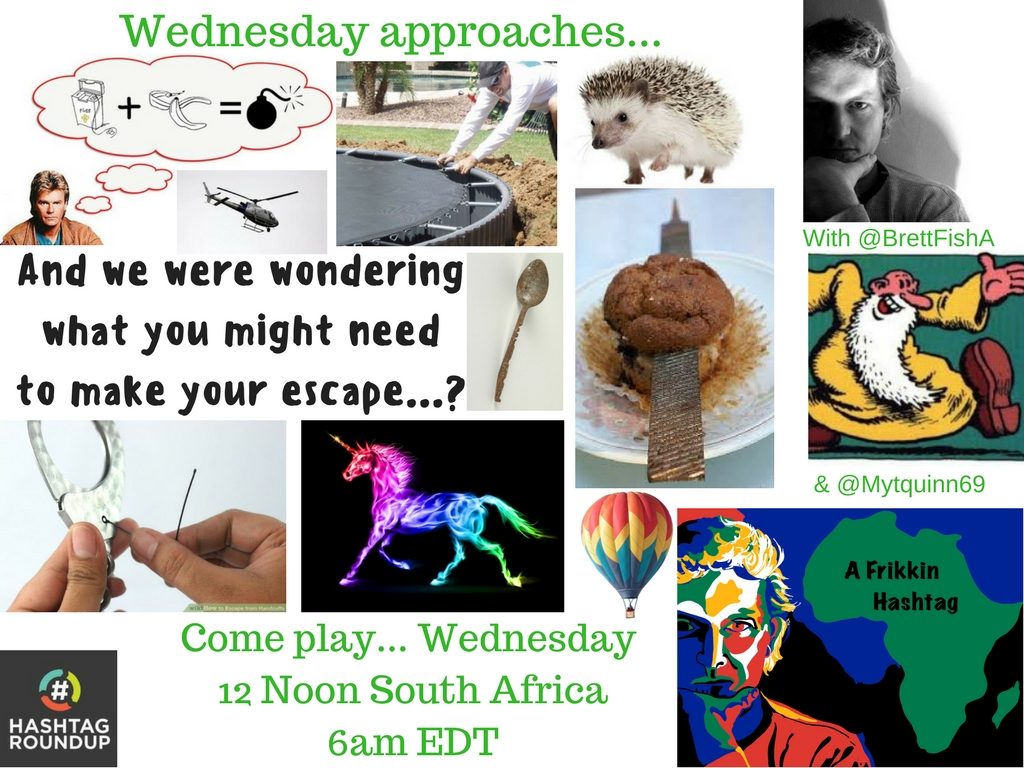 And a couple of examples:
Mark was up and running from the get go:
Some of our favourite bots came yo visit and even gave us a tune:
And a couple of better-known groups and individuals dropped in to give it a try, like this great advertising plug from Toyota:
This lavish looking cruise company:
Our friends at Peta who often come and play and remind us to be animal friendly:
And even some cartoon celebs popped in for a go:
And then, as ever, the reason you all came sneaking into this F.L.O.P. list was to see if you made it this week, right? Well let's take a look as we reveal the F.L.O.P. that sometimes also goes by the name:
FISH LIST OF PRIZEWORTHYNESS
There really were SO many great ones this week and so don't take not being in this list as a sign yours was not good, but we could not include them all. However, some that really caught our eyes were the following:
First up was John reminding us of a most vital piece:
While Geraldine clearly had her head in the right place:
Although Mark proved a tough one to beat:
While Kellie had her whole plan worked out:
Geff was in it for the long haul:
While Barry had a more devious intent in mind:
Sonu spoke on behalf of all of us:
While John was covering his bases:
The tone of Spectress plan sounded vaguely familiar:
Ross was all about the distraction:
While we were not as sure of Lisa's similar attempt:
Don called for backup:
Farid called on his special powers:
While Don't Think So had to make do with scraps:
Craig's suggestion was a little out of this world:
And Abed brought the millennial:
Barry tried to Homer his way out:
While Warren had some clever play on words going for him:
Sevrine had an ally:
And Cameron was going more for persistence:
Ruth… um… well, just take a look:
Andy had all sorts of great ideas:
Although this one really stood out:
Sho people. Creative, clever, funny and misdirectional. Those were some super great escape plans and resources… however, there were five this week that managed to force their way to the top of the pile, making this week's
F.L.O.P FIVE
[5] Planes went for the obvious:
[4] John scored the Misdirectionals:
[3] Paul whipped out his moves:
[2] Alydar was VERY specific and we would like to know more. But also are too scared to ask:
[1] While Sue broke the game as this week's Top F.L.O.P. with this simple declaration:
Thanks everyone for playing – hope you had as much fun as we all did – huge shout out to Mark for being an amazing co-host, The UnNamed Ones for as ever being the grease behind the wheels of this game and of course @HashtagRoundup for being the FREE app on which we live and function and have our being – download if you don't have it yet.
And see you Wednesday for another fun @AFrikkinHashtag game
love brett fish and No_bob the stuffed dolphin of wonder