Let me introduce you to Ujamaa…
Definition: The Swahili word ujamaa means 'extended family', 'brotherhood' or 'socialism'; as a political concept it asserts that a person becomes a person through the people or community.
Yesterday i was given the privilege of hanging out with a small group of truly inspirational people doing small but country-transforming things.
The Ujamaa Collective, as they are known, are in the middle of a seven-day walk, starting in Khayelitsha where they are based and passing through Mfuleni, Delft, Bonteheuwel, Langa, Gugulethu, Manenberg and Bishop Lavis. Raising awareness for the need for community gardens as well as practically helping local residents to create a garden in each community they visit, Ujamaa is looking to extend the incredible work they have been doing in Khayelitsha by partnering with other groups and organisations from different areas under their banner of #FoodIsFree
You have to be a bit of crazy
Inspired by this Thomas Sankara Quote:
"You cannot carry out fundamental change without a certain amount of madness."
– Thomas Sankara
Tsakani Sibanda explained that it takes a sense of 'madness' to dream of creating a free food source in the midst of a township without paying people to do it. The idea of the guerrilla gardening is to take over a piece of land that is unused and create a garden that produces free food for the community that live around it.
"It's not just about creating free food", Tsakani explained, "but also a changed mindset and belief in the people. We have had gardens destroyed and one was even burnt to the ground and when that happens we go back and build it again." 
Take a few minutes to go and watch the video that explains a little more about who the Ujamaa Collective is and why they do what they do. Jump on to the Twitterer and follow their progress at @ujamaa_za or on their Facebook page or website.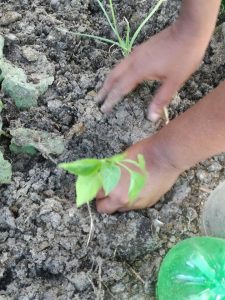 Getting to walk with the crew yesterday was a complete vibe – we started the morning listening to Tsakani Sabanda present a glimpse into the Ujamaa Collective to the Catholic Parliamentary Liason Office Round Table meeting and then a group of us caught a taxi to Elsie's River and then walked the last few kilometers to the Bishops Lavis to meet up with the Bishop Lavis Action Community [BLAC] who were truly inspiring themselves.
The way that Ujamaa do the walk was so interesting in itself – there were just six of us yesterday but we walk single file in a line the whole time and it's amazing to see what a statement that makes in and of itself. It is something different and so people stop and notice and ask questions and want to join in and so it created a number of spaces for good dialogue and explaining what we were about.
Once we met at the garden site there was no rush – an opportunity to introduce ourselves using an element of nature we found somewhere around us and time to share the vision of Ujamaa and hear from the local Community and make solid connection. Then on to the work at hand.
Uplifting the community one garden at a time
Sho, i really don't have adequate words to express how inspiring this group is. The heart they have for community and for seeing life flourish in places of death and despair is so inspiring. They don't like to use the word 'transformation' but prefer instead 'alternative' – seeking alternative solutions to present issue. Two of the women i met on the walk yesterday were people who had come face to face with Ujamaa this week and decided they needed to jump in. One of the ladies had a garden built in her front yard the day before by the team and proudly showed me the pictures of life taking place. Another young woman had come from the Eastern Cape just to join the march.
This is where i find the hope i have for South Africas – in organisations like Ujamaa and in the people who give their lives to see them really make a tremendous impact.