Would Jesus be on social media? i believe the answer is no.
Would Jesus want me to be on social media? i believe the answer is yes.
This Sunday i was given the opportunity by Ben the Priest to preach a message on God and my Social Media at St John's church at both the early morning 7.30am service [where a max of six people were on Facebook to the three on Instagram] and then at the 9.30am service where more than 60% of the people were on various forms of social media.
Afterwards two different people [who both had been out at various times because of their children] asked me to share my notes with them, so i thought it made sense to actually just post it on here so that anyone else who might be interested can take a look.
Those first two questions at the beginning did not appear in either of my preaches. But the heart answer to them did. i know a bunch of people who might argue that Jesus would definitely have been on Facebook because of being very contextual in His ministry, while i think if we look at how low key He tended to keep [at least from His side] that He most likely would have been found walking the townships and hanging out at some of the snob coffee shops as well as visiting mega churches [you know, to push over the book displays] and perhaps some home groups as well. We can never know the answer to question one and i don't think it matters, but the answer to question two is a little more significant.
HOW BIG IS IT?
i started off the messages with a joke i used to tell on camps which i think helps get an incredible point across in a simple way.
A hunter is walking through a forest when he comes across a dead dinosaur and a tiny little pygmy standing next to it. The hunter is fascinated and after looking at the great big dinosaur and the tiny little pygmy, he asks the pygmy what happened. "I killed it," the pygmy replies. The hunter looks again at the enormous dinosaur and then back at the little pygmy guy. "How did you kill it?" he asks incredulously. "With my club," comes the response. The hunter once more takes a look at the giant dinosaur and then back at the teeny tiny pygmy and then back at the incredibly large dinosaur. "How big is your club?" he marvels. Without skipping a beat the pygmy replies, "There are 500 of us!"
The Bible begins early on with this verse after God has created man:
'God said: It is not good for man to be alone.' Genesis 2.18
And then if we bounce right to the end of the book, we read:
'After this I looked and there before me was a great multitude that no-one could count, from every nation, tribe, people and language, standing before the throne and in front of the Lamb. ' [Revelations 7.9-10]
So really from the beginning of the Bible to the end we see community/connection/engagement.
Our story begins with close connection and intimacy with God in the garden. I notice four relationships present there:
[1] The relationship between God and man

[2] The relationship between man and women [the family]

[3] The relationship between man and man [mankind]

[4] The relationship between man and nature
For those of us who are familiar with the story we know that Sin Happens in which man turns his back on God's rule and each of those relationships are damaged [it won't take long to look at each one and list a number of ways in which they have broken down]
The Bible as i read it largely tells the story of those connection being restored – we were created for community/connection.
QUICK SOCIAL MEDIA SURVEY
This part is a little harder to do via blog post but basically i asked who in the congregation was on Facebook, who was on the Twitterer [as i call it], who was on Instagram? Pinterest? And finally i asked if anyone had a blog.
Then i prayed that God would open our eyes to new and existing ways of connection.
In the second service i shared the story of TFTW aka Thort for the Week which began as me emailing three or four of my friends with a challenging message from the Bible and then a week later sending another one. i started out using Hotmail as my means of delivery and later moved it to YahooGroups where it still continues today. i used to harvest email addresses from cheesey christian forward emails that we used to receive [where people would typically add on everyone they knew] by inviting people to join if they wanted to and the list grew to about three and a half thousand people. The basic idea was using what i had in front of me and finding a way for it to be a tool to grow the kingdom. 
i am reminded of Andrew bringing the little boy with his lunch to Jesus when there was a crowd of well over 5000 people needing to be fed. In the boy's hands, his lunch was fairly insignificant, but the moment he handed it over to God, the miracle occurred.
When we take the little/insignificant/inconsequential things that we have and offer it to Jesus, the consequences can be immense.
i reminded the church of that powerful verse in Ephesians 3.20 that reminds us that our God is able to do "immeasurably more than all we hope or imagine" and that often what stops us from seeing the miracle is that we hope or imagine too small.
As we take a bit of a look at social media and try to understand better where to see God in it, i thought i'd do a quick Social Media 101 to make sure that we're all on the same page… or screen as it were: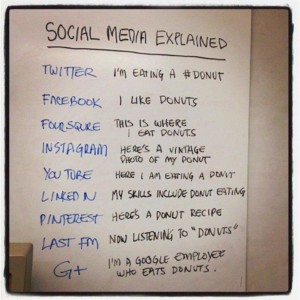 That is one of the best explanations i've seen. The last point being the dig at Google Plus that only employees of Google use that particular platform i think.
In one way, the different forms of social media could be describes/categorised as how best we communicate or relate to people or information.
For example:
Some of us are picture people – Instagram/Pinterest

Some of us are more detail/story/connection/poke people [i described the poke as kind of an online passing of the peace] – Facebook/Google+

Some of us are more snippet/headline people – Twitter

And some of us might be weirdo oddball loner types – Myspace [that is a joke – was not in my preach. Although seriously…]

Whereas some of us here today might not be interested in any social media at all… AND… THAT'S OKAY!
i think it's helpful for us as a community to try and not judge other people who engage with social media in a different way to us [without at the very least trying to understand their stance first].
We don't need to take part on social media although i do think it can be helpful if we have some understanding of it, especially if we are going to take Jesus words seriously when He called us to go and make disciples.
The Pharisees and Sadducees came, and to test Jesus they asked him to show them a sign from heaven.  He answered them, "When it is evening, you say, 'It will be fair weather, for the sky is red.'  And in the morning, 'It will be stormy today, for the sky is red and threatening.' You know how to interpret the appearance of the sky, but you cannot interpret the signs of the times.  An evil and adulterous generation asks for a sign, but no sign will be given to it except the sign of Jonah." Then he left them and went away. [Matthew 16.1-4] 
A reminder here that Jesus is talking to the religious leaders and he shouts at them for being able to recognise weather patterns, but not understanding the signs of the times. i was reminded of Karl Bath who used to speak about facing the world with a bible in one hand and a newspaper in the other. The ability to learn and understand and grasp theology coupled with being able to see that theology in context and understand its relevance within the particular context one finds oneself in. It is very important to be able to interpret the signs: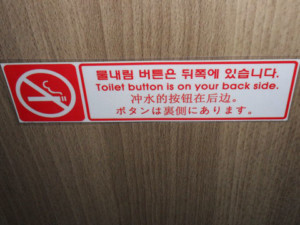 Then we read Paul's words:
19 Though I am free and belong to no one, I have made myself a slave to everyone, to win as many as possible. 20 To the Jews I became like a Jew, to win the Jews. To those under the law I became like one under the law (though I myself am not under the law), so as to win those under the law. 21 To those not having the law I became like one not having the law (though I am not free from God's law but am under Christ's law), so as to win those not having the law. 22 To the weak I became weak, to win the weak. I have become all things to all people so that by all possible means I might save some. 23 I do all this for the sake of the gospel, that I may share in its blessings.

24 Do you not know that in a race all the runners run, but only one gets the prize? Run in such a way as to get the prize. 25 Everyone who competes in the games goes into strict training. They do it to get a crown that will not last, but we do it to get a crown that will last forever.26 Therefore I do not run like someone running aimlessly; I do not fight like a boxer beating the air. 27 No, I strike a blow to my body and make it my slave so that after I have preached to others, I myself will not be disqualified for the prize.
Paul's "I have become all things to all men so that by all possible means I might save some."
[1] Social Media is a Sign of the Times: It is how the majority of the world communicates and engages with one another.
[2] Perhaps we could paraphrase Paul's words by saying:
To reach those on Facebook I log in to Facebook
To reach those on the Twitterer I sign up for Twitter
The bigger question for us all though is this: Where are you engaging with people who don't know Jesus?
One incredible thing about the internet and social media is that it has shrunk the world and given us the opportunity to connect with people all over. Just this morning i was having a conversation with a friend from India who is going to host a game with me on the Twitterer on Wednesday.
One huge danger or concern with social media is that we can get caught up/distracted/even addicted online and not invest in the typically deeper/more intimate relationships we have offline.
As with many areas of life, i believe that BALANCE is a huge key! 
This is IMPORTANT: Social Media in and of itself cannot be good or evil. It is a neutral medium. But it can be used for good or evil… and it can be something that too easily becomes a distraction from being involved in good [google 'slacktivism'].
A HELPFUL LENS
Probably one of the most helpful things is for us to view social media and our usage of it through the lens of a few verses in Colossians 3:
'And whatever you do, whether in word or deed, do it all in the name of the Lord Jesus, giving thanks to God the Father through Him.'

'Whatever you do, work at it with all your heart, as working for the Lord, not for men.' [17, 23]
Jesus typically looked around and based His teachings and stories on what He saw. What was relevant to the local people. So analogies involving fishing, farming, wedding celebrations and nature for example.
Paul used any means possible in order to share the good news of the kingdom.
We are called to be salt and light to the people around us:
Salt which adds flavour.
Light which shines the way or directs people towards Jesus
I've seen people on Facebook who boldly profess "Christian" in their religion at the top of the page and then if you look down their page they have filled out the 'Your Stripper name' quiz and there is a video of them drunk at a party or a swear-filled rant at their ex-boyfriend and so on.
We need to constantly be searching our own hearts on this: Is what i'm posting, and how i'm engaging with people online, reflective of my relationship with God? 
Let me finish off by saying this:
[1] To those of us who are on Social Media: Whatever you do, do it all in the name of the Lord Jesus, as working for the Lord.
[2] To those of us who are not on Social Media: Whatever you do, do it all in the name of the Lord Jesus, as working for the Lord.
The message stays the same – it's just the way we speak or live it out that might be different.
So would Jesus have been on Social Media? Who cares. Not important.
Would Jesus want YOU to be on Social Media? Well, that is something you need to figure out. But if you are on Social Media, and if you are not, the how you are where you are feels like the most important thing in this.
Poke.