A year of not drinking alcohol… completed in something like twenty days time…
Felt like a good time to check in and let you know how it's been and invite you to join me on a different Giving Up adventure in 2018 – WAIT!!! COME BACK HERE!
So why'd i give it up [for those of you who might have missed that detail]? Well, i just did really.
No big story. No struggle with alcohol problem [although as a non-sipper i occasionally get into trouble with my second glass of wine cos whoomp there it was!] Just the idea of testing my discipline in an area and as 2017 loomed i was actually considering a few different things.
But then suddenly it was New Year's Eve and i was like, "Ooh, i must give something up, what is it? Ah let's do alcohol."
And so i did, and it was pretty easy.
The Big Despite
At the end of last year we started hanging out with new friend we had made, namely Mahlatse and Lusanda Mashua and their gorgeous girls.
One night Mahlatse introduced me to Amarula Gold, which looks a little something like this: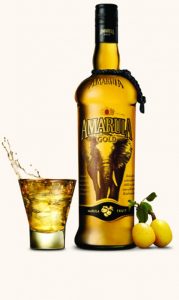 Now, to give some context, i am not a fan of Amarula at all, but i do believe in the school of 'Don't mock it til you've tried it!' for the most part and so i gave it a try and really liked it [but not so much that i put a ring on it].
My wife Valerie, aka tbV [the beautiful Val, to me] thought it would be a great idea to buy me a bottle of Amarula Gold for my birthday…
The birthday that is in January.
You know, the first month of the year.
The first month of a year of no alcohol.
And so she did, and it sits in my office slash man cave waiting for me to be done with this year so i can make its acquaintance.
The great thing is that it hasn't even been taunting me or tempting me or anything like that at all, because this year, for the most part, has been really quite easy.
A Year of Living Alcoholfreely
That's really been the truth of it. i haven't felt like i've missed out on alcohol at all and there have not been any cravings or MUST. HAVE. A. DRINK… moments or anything like that. Which is a helpful lesson to learn about yourself i think.
The times that came closest to it being a thing were moments at a dinner party where everyone else was drinking wine and i was not and so there is that hint of being on the outside, but again even that was pretty minimal and i was happy with my water or coffee or occasionally something more creative like lime and soda or orange juice. To be honest thought water is one of my favourite things to drink and so more excuse to do it – and because it feels like the healthy option – is not a bad thing.
Then maybe the two nights of poker we had – some friends had just gotten me into whiskey a year ago and i had actually started to enjoy that when playing poker and so having a whiskey or brandy-and-coke at the table while playing feels like a nice manly man vibe. Ha.
And of course there is Nachtmusiek – and this is full on blatant advertising here cos this is my happy drink – which is basically liquid chocolate in a bottle with a bit of a kick, and my absolute best when it comes to alcoholic drinks, followed closely by kahlua coffee… i traditionally get a bottle for my birthday and it lasts the whole year as a gentle sip of liquid pleasure from time to time, so i am looking forward to my next sip of that [probably the one drink i actually do sip, although whiskey as well cos that would be mad to gulp down].
And onwards to 2018
i love the idea of the start of the new year because, although it is an unofficial non-existent man-made boundary, it creates the illusion at least or the opportunity for new things, new beginnings, new habits and opportunities to pursue. So i wrote this piece a while back to invite others to join me in some new normals for the new year.
i was inspired by my friend Leah Rudman to give something up again in 2018 and specifically something that is bad for me that i don't particularly need in my life and so my choice is POTATO CHIPS as in crisps [Lays and Simba and Pringles and Doritos and the like] and so no chips for brett fish in 2018… which i think will be easy and will be more a case of do i remember than can i do it as i often just eat chips because they are there more than i crave them.
This year i started an exercise program called Insanity Max 30 with my friend Mahlatse and some of his mates – a high-intensity up-to-30 minute workout Mon to Fri and have already seen some results from that and from tbV and i trying to eat more healthily. We have also been walking a lot more, typically once or twice a week, and i have been enjoying that.
i have lost about 4kg in two months which feels good and am looking to attack the 90kg mark in 2018.
Another great opportunity is to diversify your reading list [or listening/watching list if you are a podcast/Ted Talk/streaming person] and so read different people from those you tend towards and maybe even take on a new subject that you know nothing about [i read a couple of books on the Palestine/Israel story and learnt so much last year and it was fascinating].
What is something new you are hoping to do in 2018? Give this post a read and see if it inspires you some more.